For more information, contact:
Ellis Boal 231-547-2626
ellisboal@voyager.net
Charlevoix--On April 27, 2012, Ban Michigan Fracking, together with
Deanna Hu
ghes and Heather Schiele, filed a request for a declaratory
ruling with Michigan Department of Environmental Quality (DEQ)
director Dan Wyant, asking the agency to treat frack wells statewide
as injection wells, and to suspend issuing frack permits while it
decides the petition.
The petition notes the gas industry agrees a frack well is an injection well, so the DEQ should too.
A ruling would mean applicants for frack wells would have to provide data, among other things, about the chemical analysis of the types of fluids to be injected. The data would have to be provided at the time
of the application so nearby landowners can do efficient baseline water testing before drilling commences.
Hughes and Schiele live in Sherman Township, Gladwin County, where Devon Energy is about to start horizontal fracking in the A-1Carbonate layer, a bit shallower than Utica-Collingwood.
Landowners and residents nearby to other frack wells are welcome to join the request.
Copies of this and additional case documents are on the website of Ban Michigan Fracking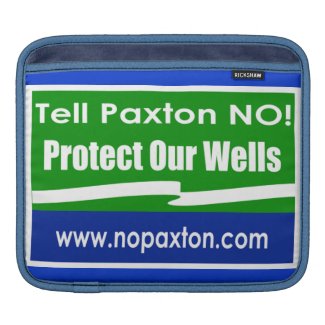 No Paxton Ipad Sleeve
by
TellPaxtonNo
See other
Nopaxton iPad Sleeves