Over the past few months, neighbors have been approaching the Lodi
Township Board of Trustees about the potential threats and problems
related to oil and gas exploration activities in the area. Initially,
the Board's reaction was that we are all protected, as this activity
was subject to regulation under their current mining ordinances.
Given the special nature of the oil and gas activities, and the
current State statute that directly tries to take the ability to
regulate out of the hands of the municipalities, this is likely not
the case, as Supervisor Godek admits in the attached mailing -- see
Lodi Township March 2012 Newsletter to read. For best viewing click on Full Screen.
Unfortunately, the Supervisor seems to say that there is no hope in
terms of regulating these activities. We respectfully disagree, and
communities around the county are showing that they will and can
protect the local population and environment though State law would
seem to try to restrict them otherwise. We would suggest that it is
time for Lodi to pass an ordinance like the one that is on the books
in the City of Ann Arbor, or in Middlefield, NY, or in Dryden, NY, or
look to the County or specialized legal expertise for additional
guidance and assistance. It is time for the Lodi leadership to stand
up and protect us. It is time for the Lodi leadership to protect our
well, our air, our roads, our homes, and our property. It is time for
Lodi leadership to stand up and fight!
This issue is far more important then a few chickens in someone's backyard....
And if your dog is against oil drilling then this is for him/her: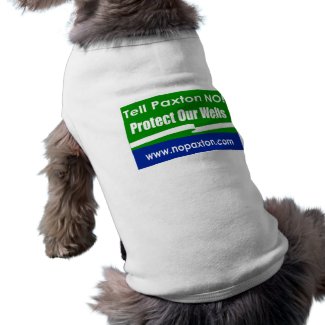 No Paxton Pet Sweater
by
TellPaxtonNo
See more
Nopaxton Pet Clothing